By Madison Shaak BS, QEEG-T, BCN  Edited by Dr. Caroline Spearman, Psy D.
Josh McCown, quarterback for the New York Jets, interviewed with ESPN about his recent successful season. He set career highs in touchdown passes (18), yards (2,926) and completions (267) as a newcomer to the Jets, yet he's 14 years into his NFL career. What's the secret behind these impressive stats? It's not a new supplement or gym trainer. It's all in his head.
McCown decided to step up his game this season by optimizing his cognitive performance. He heard about neurofeedback therapy from Tommy Shavers when he played for the Cleveland Browns. Shavers is a behavior and performance consultant who works with NFL and NCAA teams. He introduced McCown to his partner William Lambos, who is a licensed psychologist with a postdoctoral certification in clinical neuropsychology.
After completing assessments, Lambos and Shavers were able to assess how McCown's brain functioned on an electrical level. He reportedly had "high marks" for memory and processing, but "suffered from cognitive rigidity" or "overthinking". The goal of his neurofeedback sessions was to become more mentally flexible and reduce his tendency to dwell on bad plays, lost games, and overall negative thinking.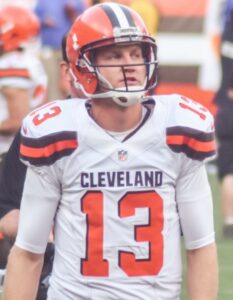 Lambos and Shavers set McCown up with weekly neurofeedback sessions to enhance his cognitive flexibility. During the training sessions, McCown would watch movies like Good Will Hunting with sensors placed on his head to detect his brain function. When his brain reached an optimized performance level, the movie played in color, but if it slipped below that level, it played in black and white. This subconscious conditioning exercise rewarded his brain for optimal function. After his sessions, he would meet with Lambos for individual therapy.
Together, Lambos and Shavers coached McCown to maximize his brain health. McCown says he wanted to improve his mental state in the present, but also take preventative measures. Though he has only had one documented concussion, he said he is mindful of the long-term effects of head trauma.
McCown credits his teammates, coaches, and individual talks with Shavers and Lambos to his success this year, but specifically credits neurofeedback for his improved mental flexibility. His in-game thinking has changed for the better and he feels that he can better overcome adversity.
Read the Full Article Here:
https://www.espn.com/blog/new-york-jets/post/_/id/76649/josh-mccown-reveals-secret-to-late-career-success-brain-training
To Learn More about Neurofeedback Therapy: