By Madison Shaak BS, BCN, QEEG-T and Edited by Dr. Caroline Spearman PsyD
It's common knowledge that football is a physical sport. Even with equipment and rule changes, dangerous concussions are a risk for each player. In 2013, more than 4,500 former professional NFL players athletes sued the league and were monetarily compensated for concussion related damages, including depression and dementia (Pearson, 2013).
Concussions can have long-term, damaging effects on a person's quality of life. The most common symptoms include temporary loss of consciousness, headache, memory loss, nausea, dizziness, lack of coordination, and fatigue. In some cases, concussions can lead to post-concussion syndrome (PCS) where many of these symptoms last for weeks or months after the injury. In the most severe cases, repeated blows to the head can result in chronic traumatic encephalopathy (CTE), a degenerative brain disease found in individuals with repetitive brain trauma. Symptoms include mood and personality changes (e.g., mood, paranoia, aggression, impulse control problems) and cognitive deficits (e.g., memory loss, impaired judgment, dementia). While CTE is typically diagnosed post-mortem through brain tissue analysis, at least one clinical study showed 110 out of 111 former NFL players (99%) were diagnosed (Mez, 2017).
Neurofeedback, or brain training, can be a powerful treatment for individuals suffering from brain injury. Several athletes have come forward with their personal experiences using brain training for concussion symptoms, including former 49ers quarterback and Super Bowl champion Guy Benjamin and former Green Bay Packers tight end Jermichael Finley.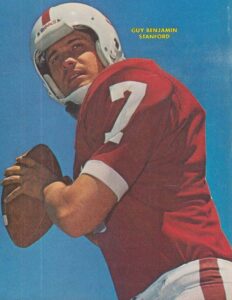 QB Guy Benjamin: Stanford, Miami Dolphins, New Orleans Saints, San Francisco 49ers, Superbowl Champion
"Prior to working with Brain Rx and receiving neurofeedback, I could see a distinct difference in how I was acting and functioning today than when I was younger. We didn't know about concussions back then but now we see how much damage we were really taking. Since ending my football career, I have become diagnosed with CTE and over time I have seen it progress. I was having issues with remembering the route I take to work, motor control and overall memory problems. While working with Brain Rx, my family and my doctors and I have continued to see improved results and see these difficulties start to subside."
A study that tracked anonymous patient data from Neurogrow Brain Fitness Center in Virginia followed 46 participants with PCS as they engaged in the center's Concussion Recovery Program. The program consisted of 21 brain coaching sessions and 22 neurofeedback sessions over the course of 16 weeks. Their progress was measured across three cognitive domains including Complex Attention, Cognitive Flexibility, and Executive Functioning. The participants experienced a significant improvement in all three domains after treatment (Majid, 2018).
Neurofeedback is not a cure for CTE, but it is a reliable treatment resource for post-concussion syndrome and concussion related symptoms. Neurofeedback can improve memory, reduce impulsivity, enhance mental clarity, and increase flexibility. It can also be an alternative to addictive medications for those who also struggle with substance abuse. Peak performance brain training is also a useful tool for athletes who have not experienced a concussion but wish to improve the mental aspect of their game.
To Learn More About Neurofeedback:
https://georgetownpsychology.com/services/neurofeedback/
Majid, F. (2018). A comprehensive "Concussion Recovery Program" with emphasis on brain coaching and EEG-based neurofeedback therapy: A retrospective analysis. Neurology, 91(23). doi:10.1212/01.wnl.0000550606.03730.0c
Mez, J., Daneshvar, D.H., Kiernan, P.T., et al. (2017). Clinicopathological evaluation of chronic traumatic encephalopathy in players of american football. JAMA, 318(4), 360–370. doi:10.1001/jama.2017.8334
Perez, A. (2017, October 03). Clinic provides hope for athletes with brain injuries: 'This is going to be huge'. Retrieved from https://www.usatoday.com/story/sports/nfl/2017/10/03/california-clinic-provides-hope-athletes-brain-injuries-athletes-seek-answers-degenerative-brain-dis/700399001/
Person. (2013, August 29). NFL, ex-players agree to $765M settlement in concussions suit. Retrieved from http://www.nfl.com/news/story/0ap1000000235494/article/nfl-explayers-agree-to-765m-settlement-in-concussions-suit
Speer, J. (2019, March 21). Superbowl Brain: How Ex-NFL Athletes Are Improving Their Post Concussive Symptoms with Neurofeedback Therapy. Retrieved from https://www.brain-rx.org/nfl-athletes-improving-post-concussive-symptoms-with-neurofeedback-therapy/